Reserving a room at the hotel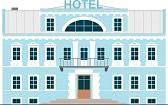 -Hello, I'd like to reserve a hotel room please.
(Bonjour, j'aimerais réserver une chambre s'il vous plaît.)
- Yes of course, may I have your name please?
(Oui bien sûr, puis-je avoir votre nom s'il vous plaît?)
- Yes, Jim Dragan. J-I-M     D-R-A-G-A-N
(Oui, Jim Dragan)
- Could you tell me when you need the room?
(Pouvez vous me dire pour quand vous avez besoin de la chambre?)
- Friday evening, June 16th through to Monday morning, June 8th
(Vendredi le 16 Juin en soirée jusqu'à lundi matin, le 8 Juin )
- Would you prefer a single bed or a double bed?
(Preferez vous un lit simple ou un lit double?)
-A double bed please.What's the price for a night?
(Un lit double s'il vous plaît. Quel est le prix pour une nuit?)
-$50 breakfast included. could I just have your phone number please?
($50, petit déjeuner inclu. Puis-je avoir votre numero de téléphone s'il vous plaît?)
- Yes , it's 739-245-3928
(oui, c'est 739-245-3928)
-That's a booking for two nights.Thank you for choosing our hotel, sir, we look forward to meeting you.
(  C'est une réservation pour deux nuit. Merci d'avoir choisi notre hotel, nous nous réjouissons de vous recevoir)
-