Checking in at the hotel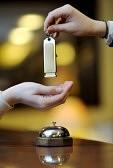 - Good afternoon, I'm Jim Dragan and I have a reservation.
(Bonjour, je suis Jim Dragan et j'ai une réservation)
- Could I see your ID please?
(Puis-je voir votre carte d'identité s'il vous plaît?)
- Yes, of course. Here you are.
(Oui bien sûr, voici)
- Thank you. Do you have a credit card?
(Merci. Disposez-vous d'une carte de crédit?)
- Yes, I have a Mastercard
(Oui, j'ai une Mastercard)
- You're in room 205, second floor. You'll find the lifts on the left.
(Vous êtes dans la chambre 205. Vous trouverez les ascenseurs sur la gauche)
- Could I have the keys please?
( Puis-je avoir les clés s'il vous plaît ?)
Yes, of course, here you are? Enjoy your stay.
(Oui, bien sûr, les voici. Bon séjour.)