At the chemist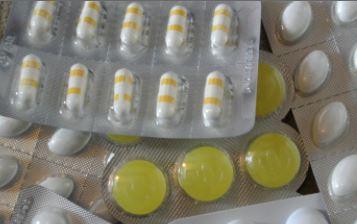 - Hello, have you got something for a stomach ache?
(Bonjour, avez vous quelque chose pour un mal de ventre?)
- Yes of course, you can try these tablets.
(Oui, bien sûr. Vous pouvez essayer ces cachets)
- Great! How many must I take per day?
(Super! Combien dois-je en prendre par jour?)
- Three times a day, at every meal with a big glass of water.
(Trois fois par jour, à chaque repas avec un grand verre d'eau)

-Good morning Sir, I have a prescription from my doctor.
(Bonjour Monsieur, j'ai une ordonnance de la part de mon medecin)
-Let me see...
(Voyons)
Do you have your insurance card?
(Avez vous votre carte de securité sociale?)
-Yes, here it is! I also have my private insurance form.
(La voici! J'ai egalement ma carte de mutuelle)
-Would you rather have syrup or tablets?
(Préférez vous le sirop ou les cachets?)
-Syrup please
(Sirop s'il vous plait)
-Are there any contraindications?
(Y-a-t-il des contre indications?)
-You might feel sleepy so it's better not to drive.
(Il se peut que vous soyez somnolent alors ça serait préférable de ne pas conduire)
-Oh, alright. Thank you very much
(D'accord. Merci beaucoup)